Welcome to Community News! You can find the newsletter online with links to program details, at the UA News website. To see previous versions of the Unincorporated Area Community Newsletter visit the archives.
Engage with King County
What types of transit service do you want in the next 25 years?
Weigh in on Metro Transit's Long Range Plan through the online survey, open through July 31. Our website has lots of new information about how communities in King County will grow and how different types of transit service can meet that growing demand.
Get involved in shaping Equity and Social Justice Strategic Plan for King County
A major priority for King County is advancing equity so all communities can thrive, and now you can help shape our first Equity and Social Justice Strategic Plan. We want to hear about equity issues that we can collectively address, partnership opportunities, and what you see as King County government's role in furthering regional equity. Please fill out this survey.
Join the conversation: Our Green/Duwamish strategy What's working well to improve air, land, and water resource protection and enhancements in the Green-Duwamish Watershed? Tell us what you think!

2016 CSA community grant application period opens soon
The annual funding application opportunity for community organizations in unincorporated King County will begin just after Labor Day this year. Community organizations will have approximately two months to identify potential projects and apply for up to $5,000 in funding to support local initiatives through King County's Community Service Area Program. Information listing past awardees and the criteria used for this year's funding is available on the CSA website. Be on the lookout for the grant application kick off.
Cougar/Squak Corridor
King County Parks hosted two community meetings this spring to help generate ideas for uses and amenities for the newly acquired Cougar/Squak Corridor Park. Participants in the first meeting suggested their ideas for the park, and the second meeting featured draft recommendations from Parks employees based on the community input. A community outreach summary provides a description of the process and draft recommendations. Parks project managers will write draft site management guidelines for the Cougar/Squak Corridor that will be available for public review this fall.

News
2015 Community Service Area Work Plans available
Each year, the CSA program compiles King County department projects across unincorporated King County. The work plans list specific projects in local communities and identify the project manager's name and contact information. These represent a one stop place to see what County projects are occurring across unincorporated King County. The updated list can be found on the Community Service Area website.
Plan now to survive an earthquake
News agencies have been reporting the Puget Sound region is long overdue for a devastating earthquake and tsunami. Don't let these warnings paralyze you. Instead, consider practical steps you and your household can take now to be better prepared should the "really big one" hit anytime soon. Learn how on the King County Emergency News website.
Take safety with you when visiting King County rivers
Keep yourself safe this summer by taking extra precautions while recreating in water. Rivers can be especially dangerous because they pose threats such as logs, rocks and swift flows. Visit Public Health - Seattle & King County's river safety page for more information. Visit the Seattle Children's Hospital's drowning prevention webpage for a Big 5 Sporting Goods coupon for discounted lifejackets. Hurry – the discount offer ends Sept. 30.
Redeveloped stretch of East Lake Sammamish Trail now open A 2.6–mile-long segment of the East Lake Sammamish Trail between 187th Avenue Northeast and Inglewood Hill Road has been redeveloped and is now open to the public! Eventually the full 11-mile-length of the trail will be paved and feature soft surface shoulders, connecting the 520 and Sammamish River/Burke-Gilman trails to Issaquah and the Mountains to Sound Greenway. Check out the Parks blog and website for more information.
New Lake to Sound Trail
The Lake to Sound Trail project includes design and construction of a 16–mile-long, multiuse recreational trail from Lake Washington in Renton to the shoreline of Puget Sound in Des Moines. This joint partnership between King County and the cities of Renton, Tukwila, SeaTac, Burien and Des Moines and will provide access to recreation, employment and retail in these cities. The trail will also link together four major trails in south King County: the Cedar River, Green River, Westside and Des Moines Creek trails, Learn more by visiting the project website.
Out of the Box – Water Safety Issue
Be sure to Check out the King County Parks "Out of the Box" children's e-zine for kid-friendly water safety tips and games. Ask for copies of "Out of the Box" at your nearest KCLS library or at various King County Parks events throughout the summer.
Discover your parks through music and art
Get out and play! Tickle the ivories of one of 22 artist-designed pianos in select Bellevue, Seattle and King County parks, through Aug. 16. King County Parks is excited to be a part of Pianos in the Parks again, and hosts beautifully painted pianos at Marymoor and Steve Cox Memorial parks, and along the Sammamish River Trail. Get out and play!

Ready to be a star?
Capture video of your Pianos in the Parks performance and enter to win the chance to take the stage and perform the winning piece at KEXP's Concerts at the Mural on Aug. 21. Share the love, and your photos, with #pianosintheparks.
What a difference no snowpack makes
You can see the dramatic difference in river levels in this short video comparing scenes of the Snoqualmie River near Fall City and North Bend from January and June 2015. Run-off from snowmelt for the period April through September of this year is projected to be the lowest in the past 64 years.
Assessor's Office promotes new customer service features
The King County Assessor's Office has begun mailing the 2015 property valuations. This year, property owners will be able to scan a QR Code from the card with a mobile device to pull up their property information on eReal property. Additionally, property owners will be able to pre-register to receive future valuation notices via email using the six-digit EVN code printed on the front of the postcard.
Community Service Area news
Bear Creek/Sammamish Area
Cottage Lake Music in the Park
The Upper Bear Creek Community Council is happy to sponsor "Music in the Park" again this summer at Cottage Lake Park! The series of six free family concerts in the park will run on Thursday evenings in July and August from 7-8:30 p.m. Bring a picnic to enjoy in the park at 190th and NE Woodinville-Duvall Road in Woodinville. Visit the website for more information.
Upper Bear Creek Community Council
For more information visit the Upper Bear Creek Community Council website.
Four Creeks/Tiger Mountain Area

Community Alliance to Reach Out and Engage
July 27 and Aug. 24, 6:30 - 8 p.m., at the Lord of Life Lutheran Church at 12819 160th Ave. SE, in Renton. For more information, visit the website.
Four Creeks Unincorporated Area Council meetings
Visit the Four Creeks UAC website for the latest information.
Greater Maple Valley/Cedar River Area
Greater Maple Valley Unincorporated Area Council meetings
The Aug. 3 meeting features John Taylor, Assistant Director of the Water and Land Resources Division of the King County Department of Natural Resources and Parks. At an extra "monthly" meeting on Aug. 24, and again on Sept. 14, the guest speaker will be King County Sheriff's Office Major Ron Griffin. Meetings are 7 - 9:30 p.m., at the Fire Station, 231st St and SR-169 in Maple Valley. Check the Greater Maple Valley UAC website for details.
This item submitted by the GMVUAC.
2016 King County Comprehensive Plan Update
On July 6, the GMVUAC submitted environment-related questions, concerns and recommendations concerning the 2016 King County Comprehensive Plan update to Executive Office staff. Key issues addressed were: Notification distances for new development; mapping of abandoned mine shafts; trail access; mapping of Transfer of Development Rights (TDRs) receiving sites; and public water systems and private wells. In addition, the area council recommended eliminating a policy regarding concurrency testing and TDRs.
Snoqualmie Valley/Northeast King County Area
Fall City Community Association meeting
Aug. 14, 11:30 a.m. - 1 p.m., at the Fall City Fire Station, 4301 334th Place Southeast in Fall City. Monthly board meeting, open to the public. For more information visit the Fall City Community Association website or contact Ashley Glennon.
Southeast King County Area
Green Valley/Lake Holm Association
July 29 and Aug. 26, 6:30 - 8:30 p.m., at the Black Diamond Library, 24707 Roberts Drive in Black Diamond. Visit us on Facebook and follow us on Twitter.

Vashon/Maury Island Area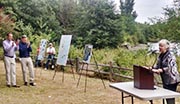 Open Space preservation celebration
King County Executive Constantine, County Councilmember McDermott and the Vashon-Maury Island Land Trust celebrated State Senator Sharon Nelson for her work in preserving the Island's critical wildlife and open space. Since 2013, 142 acres of land and 1,477 feet of waterfront have been acquired, thanks the funds and efforts of King County, the Land Trust and Sen. Nelson. For more information, read the news release.
West King County Area
White Center CDA hosts fifth-annual Promise Celebration
The fifth-annual Promise Celebration offers residents of the White Center community an opportunity to connect with a wide range of educational, human service and government resources, enjoy delicious food and obtain back-to-school backpacks for children. The Promise Celebration is set Friday, Aug. 28 from 4-7 p.m. at the Greenbridge Plaza, 9800 8th Ave. SW in Seattle. For more information and to register visit the website or contact the WCCDA office.

North Highline Unincorporated Area Council meetings
Check the North Highline UAC website for details, or email Barbara Dobkin.
West Hill Community Association meetings
Check the West Hill Community Association website or Facebook for details, or email Sonja Bowden.
If you have comments or suggestions about future content, please contact Alan Painter or call 206-477-4521.