Welcome to Community News! You can find the newsletter online with links to program details, at the UA News website. To see previous versions of the Unincorporated Area Community Newsletter visit the archives.
Engage with King County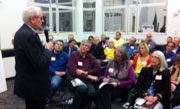 Community Service Area town meetings draw unincorporated area residents
King County's unincorporated Community Service Area (CSA) program in collaboration with Councilmembers Dunn, Gossett and Lambert has hosted four town meetings across unincorporated King County, where residents can share their concerns and ideas about public safety, transportation, and other issues of importance with King County representatives. There are four more open houses scheduled from 7-9 p.m. in the following communities:
Vashon/Maury Island on May 13
West King County in Fairwood on  May 14
Southeast King County on May 20
Bear Creek/Sammamish, on June 10
For detailed location and other information, visit the CSA website.
Lower Snoqualmie Valley farmers needed for flood impact survey
On behalf of the King County Flood Control District, King County is seeking input from farmers in lower Snoqualmie Valley to learn more about how flooding impacts agricultural operations and ultimately help set priorities for implementing actions such as farm pads and raising houses and barns above flood levels. Farmers are encouraged to take the survey in one of three ways: drop by the Carnation Library, 4804 Tolt Ave., on May 14 from 2 – 7 p.m. to meet with King County staff and complete a survey in person; make an appointment to take the survey in person or by phone at their convenience; or complete the survey on the website.

Applications for Lower Duwamish Green Grants accepted through June 2
King County is again offering grants to fund community-based environmental projects that support environmental projects that align with its goals to control combined sewer overflows (CSOs), improve air and water quality, curb new and ongoing sources of water pollution, and address impacts of climate change. Non-profit community groups, tribes, and schools are encouraged to submit applications, which are due by 5 p.m. on June 2. A total of $102,825 in grant funding is available in 2014, with a maximum award of $50,000 per applicant. For more information, visit the website.
Join the discussion: Family-friendly work environments and wage equity
The King County Women's Advisory Board is hosting a community forum on June 11 at 5:30-7 p.m. to talk about wage equity issues among women and men in King County. The forum will take place in room 123 of King County's Chinook Building in Seattle. For more information, visit the website.
Children and Family Justice Center open house
Come get an update on the new Children and Family Justice Center at our next Open House. The event takes place on June 11 from 6 – 8 p.m. at the King County Youth Services Center, 12th and Alder in Seattle. For more information, visit the website.
News
Interior Secretary Jewell pitches in with Lake Sammamish kokanee restoration
The ongoing work of restoring imperiled Lake Sammamish kokanee salmon received high-profile assistance, when Secretary of the Interior Sally Jewell joined King County Executive Dow Constantine and other partners of the Kokanee Work Group at their fifth-annual juvenile fish release. For more information, visit the website.
Metro Transit cuts are coming
The King County Council is considering a recommendation to delete 72 Metro Transit routes and reduce or revise another 84 routes – about 16 percent of the system – for lack of revenue needed to sustain current service levels. If approved, cuts could take effect in phases starting in September. For more information, visit the website.
Candidate filing week
Interested in running for office, or want to keep up on who is? Candidate filing week is May 12-16. For more information, visit the website.
May is Wildfire Awareness Month
The Forestry Program offers free assistance to residents of rural forested areas to assess their risk from wildfire and develop and implement community fire safety plans. Modeled after the national Firewise program, such plans prevent the loss of lives, property and resources to wildfire while encouraging forest stewardship among landowners. Contact the Forestry Program at 206-477-4842. For tips and information, visit the website.
May is Bike to Work Month
Jump on your bicycle and make your commute more fun. King County's 175-mile Regional Trails System offers a great commute alternative to many residents. Don't forget to stop and snap a photo along the way – your commute could grace the cover of our next Regional Trails in King County map! For contest details, visit the website.
Fifth-annual Big Backyard 5K, June 1
There is still time to register for the fifth-annual Big Backyard 5K presented by Group Health on June 1 at King County's Marymoor Park in Redmond. Proceeds of the event benefit King County Parks, so register today!
Join the Marymoor Recycling Crew and watch a concert for free!
King County Parks is seeking volunteers for its Marymoor Recycling/Composting Crew at this summer's
Marymoor Park Concerts series. Volunteers receive free admission and parking for the shows at which they volunteer. For more information and to sign-up, fill out the application, or contact Laurie Clinton, King County Parks Volunteer Program Manager.
Evergreen Mountain Bike Festival, June 7

Join King County Parks and Evergreen Mountain Bike Alliance for the fifth-annual mountain bike festival at King County's Duthie Hill Park on June 7. Bike demos, a beer garden, raffles, food, friends, music and good times for everyone. Entry to the event is free and open to the public and a Festival Clearing Pass ($10/Evergreen members or $20/non-members) will get you access to all day bike demos, skills clinics, guided rides and event races. Come out and see what the festival is all about, and learn more on the website.
Become an EnviroStars business
Get free technical assistance, marketing, cash incentives and customer appreciation. Watch this video to hear EnviroStars businesses talk about how the program has helped their bottom line.
Fair Housing 101 for nonprofit transitional and shelter providers
The King County Office of Civil Rights will hold a free fair housing workshop on June 3, from 1:30-3:30 p.m., at the King County Chinook Building, in Seattle. Transitional and shelter managers of halfway houses, domestic violence shelters, clean and sober housing, etc. will find this workshop helpful in understanding the fair housing aspects of short-term housing situations. Extensive free fair housing materials included. Please pre-register by emailing or calling 206-263-2446. For details and directions, visit the workshop website.
Free or low-cost health insurance is available
Even though the first "open enrollment" period ended on March 31, many people can still sign up for low-cost health insurance through Washington Healthplanfinder. Learn the details of whose income qualifies for free Apple Health (Medicaid) coverage, or for anyone who experiences a qualifying life event, such as changing jobs, having a child or getting married.
Heard about e-cigarettes and vape pens?
Nationally, e-cigarette use has doubled in the last year with the devices that can also deliver sweet fruit and candy-like flavors and can be attractive to kids. The smokeless vapor pens can be used for marijuana too. Since there is no smell to the vapor that's emitted, youth can easily disguise their use. E-cigarette liquid cartridges contain nicotine, which is a toxic substance, and there has been a dramatic rise in calls to Washington Poison Center about exposure to the liquid. Make sure these devices are stored safely and out of reach of kids. King County has policies to protect kids from e-cigarettes. E-cigarettes cannot be sold to minors under 18. For more information, visit the website.
New digital pet licenses
In partnership with PetHub, Regional Animal Services of King County now offers digital pet licenses. If your pet goes missing, the tag has a QR code that can be read by any mobile device and links to a FREE online profile and 24/7 call center. Best of all, there is no additional charge for this service!
Community Service Area news
Bear Creek/Sammamish Area
Bear Creek/Sammamish CSA Meeting
June 10, 7-9 p.m. at Woodinville Library, 17105 Avondale Road NE, in Woodinville . Visit the CSA website for details.
Upper Bear Creek Community Council
For more information visit the Upper Bear Creek Community Council website.
Four Creeks/Tiger Mountain Area
Four Creeks Unincorporated Area Council meetings
June 18, 7 p.m., at the May Valley Alliance Church, 16431 SE Renton-Issaquah Rd. in Renton. Visit the Four Creeks UAC website for details.
Greater Maple Valley/Cedar River Area
Greater Maple Valley Unincorporated Area Council meeting
June 2, 7 p.m., at the Fire Station, 231st St and SR-169 in Maple Valley. Check the Greater Maple Valley UAC website for details.
This item submitted by the GMVUAC.
John Henry Mine
The area council reviewed a request to revise/renew a permit to continue mining at the John Henry Mine northeast of Black Diamond. The area council identified several concerns including: water quality, surface runoff water; impacts to private wells; traffic impacts on county roads; and final site reclamation. Comments were sent to the Office of Surface Mining, Reclamation and Enforcement recommending both a denial of the company's request to resume mining and an immediate implementation of required reclamation.
Southeast King County Area
SE King County CSA Meeting
May 20, 7-9 p.m., at Neuwaukum Grange Hall, 38402 180th Ave SE in Auburn. Visit the CSA website for details.
Vashon/Maury Island Area
Vashon/Maury Island CSA Meeting
May 13, 7-9 p.m. at McMurray Middle School, 9329 Cemetery Rd SW on Vashon. County-sponsored community meeting on issues and concerns in the North Highline area. Featuring Sheriff Urquhart, Executive's office Fred Jarrett, Assessor's Office, and executive staff representatives. Open to the public. Visit the CSA website for details.
Vashon-Maury Island Community Council General meeting
May 19, 7 p.m., McMurray Middle School, Multi-purpose room, 9329 Southwest Cemetery Road, Vashon. For more information visit the Vashon-Maury Island Community Council website.
West King County Area
'Welcome to Skyway' sign to be unveiled
A community gateway sign will be unveiled in Skyway on May 14 at 6 p.m., marking completion of a sidewalk improvement project. Another grant-funded sidewalk project is on the horizon to continue to improve walkability to local businesses and services in the community. For more information, visit the website.
Fairwood CSA Meeting
May 14, 7-9 p.m., at Ridgewood Elementary, 18030 162nd Place SE in Renton. Visit the CSA website for details.
West Hill Community Association Board meeting
May 14, 7 p.m., Skyway Fire District #20, 12424 76th Ave S., Seattle. Check the West Hill Community Association website for details.
Skyway Solutions Community Meeting
May 22, 7 p.m., Skyway Water and Sewer District, 6723 South 124th St., Seattle. Check the Skyway Solutions website for details.
North Highline Unincorporated Area Council meeting
June 5, 7 p.m., North Highline Fire District Office, 1243 SW 112th St., Seattle. Check the North Highline UAC website for details.
If you have comments or suggestions about future content, please contact Alan Painter at 206-477-4521.